Need some MIDI keys but not a great big keyboard? One of these affordable mini MIDI controllers, each with 25 keys, could be just right.
Not everyone needs 88 keys. Unless you're a keyboardist with the kinds of chops to impress the audience at Carnegie Hall or blow away the musos down at the local jazz bar, something a little smaller is probably ideal. As dance music producers, most of us can get by with a 25-key MIDI keyboard for playing in one-handed basslines, melodies and chords.
The great thing about modern MIDI controllers is you don't have to stop with keys. Depending on your production style and genre, you might want to get down with backlit drum pads, MIDI-mapped knobs or even some built-in samples. The bonus is that 25-key controllers are affordable as well.
If you're in the market for a new controller, jot down what you need and your budget, and then go to town with this list. As always, products are listed in order of ascending price.
While you're here, you may enjoy this video from Attack on YouTube.
Nektar SE25
Sometimes you don't want a lot of bells or whistles (or indeed any bells or whistles – how useless would they be on a MIDI controller?). When you just need a decent controller with two octaves of keys at a budget-friendly price, Nektar's SE25 is the way to go.
The small controller is just barely larger than its 25 keys, which means it won't take up precious real estate on your desktop. In that additional space, though, Nektar have crammed in quite a lot of functionality, including buttons for changing the octave up or down and adding sustain, and three assignable ones for pitch bend, transpose, layer, latch, and even basic DAW integration commands like track or patch change. It's also velocity-sensitive, with three velocity response curves.

The SE25 uses a micro USB cable (included) and is entirely USB-powered and class compliant at that, meaning it should work with an iOS device. It also comes with a license card for Bitwig 8-Track in case you needed a DAW to get going. And the best part? At only £42 it's extremely affordable. Perfect for beginners, for working on tracks on the go, or for those who only need a nice set of keys and that's it.
Korg microKEY 25
Korg know a thing or two about keyboards. They've been making them since the 1970s, after all. The company's microKEY line takes this knowledge and puts it into a small form factor. The microKEY 25 features what Korg calls a Natural Touch mini-keyboard with velocity sensitivity. You can even adjust the velocity curve with the free Korg Kontrol Editor. Along with the keys, it's got a dedicated arpeggiator button, a combination Sustain/TAP button for either adding piano-style dampening or setting the tempo of the arpeggiator. The 25 also has a Korg-style joystick for controlling pitch bend and modulation.

It's USB bus-powered and can also draw power from an iPad or iPhone, assuming you have a Lightning – USB camera adaptor. The bundle of software, including Korg titles like Korg Collection – M1 Le and Gadget 2 Le for Mac plus iZotope Ozone Elements and UVI Digital Synsations is a nice bonus. If you're looking for a decent set of keys at £50 it's quite the deal.
Alesis V25 MKII
The world of the 25-key MIDI controller is a competitive one. There are lots of companies trying to outdo one another to add the most features for the lowest price. Alesis' V25 MKII hits the sweet spot between affordability and features, with drum pads and knobs plus 25 full-size keys for less than £70.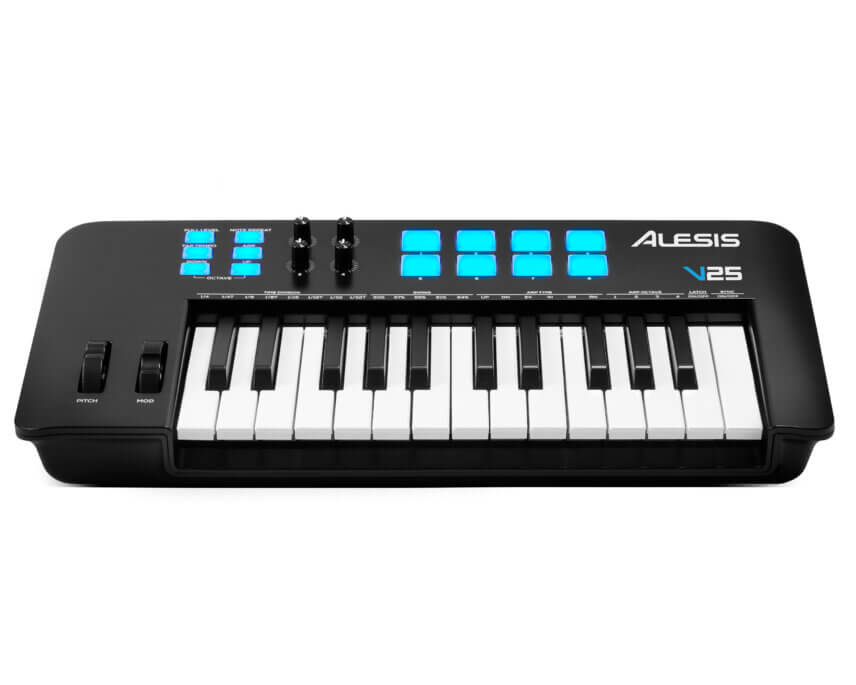 Let's start with the keyboard. This is the first controller on the list with full-size keys. That's a big deal (pun intended) and much more conducive to actual playing than mini keys. Alesis calls them 'synth action' and that's good enough for us. They're also velocity-sensitive.
Most dance music producers don't just need keys though. They need other controllers to aid in music creation. Alesis know this as well and so have thrown in eight velocity-sensitive, LED-backlit percussion pads with level and note repeat for finger drumming plus four MIDI-assignable knobs for DAW and plugin control. It's also got pitch bend and modulation wheels like big controllers plus octave buttons and even an arpeggiator with six modes, tap tempo, time division, gate and swing controls. Looking good for £66.
Arturia MiniLab 3
As the price goes up little by little, the features increase. Arturia is up to version three on their MiniLab controller, and have added even more features while keeping the price of £75 the same.
As with the previous version, MiniLab 3 has 25 velocity-sensitive slim keys, two banks of eight velocity and pressure-sensitive pads with RGB backlighting, eight rotary encoders for controlling other gear and software, a DAW transport control, octave buttons, transpose, and two capacitive touch sensors for pitch bend and modulation. The third iteration adds four sliders, a mini display and clickable browsing knob, an arpeggiator, hold and chord modes, DAW integration, and eight DAW and user presets.
Arturia's latest is also now USB powered with USB-C connects plus MIDI five-pin DIN output for controlling external gear directly. Slick. Of course, it integrates seamlessly with Arturia products and also comes with a software package that includes UVI Model D, Native Instruments The Gentleman, Ableton Live Lite and the company's own Analog Lab Intro. That's a lot of 'Lab for only £75.
Akai Professional MPK mini Play MK3
Akai Professional claims their MPK mini MIDI controller is the best-selling in the world. It's certainly a solid device and we enjoyed playing with the MK3 when Akai sent one over to the Attack studio. What could be better than an MPC-inspired controller? One with built-in sounds.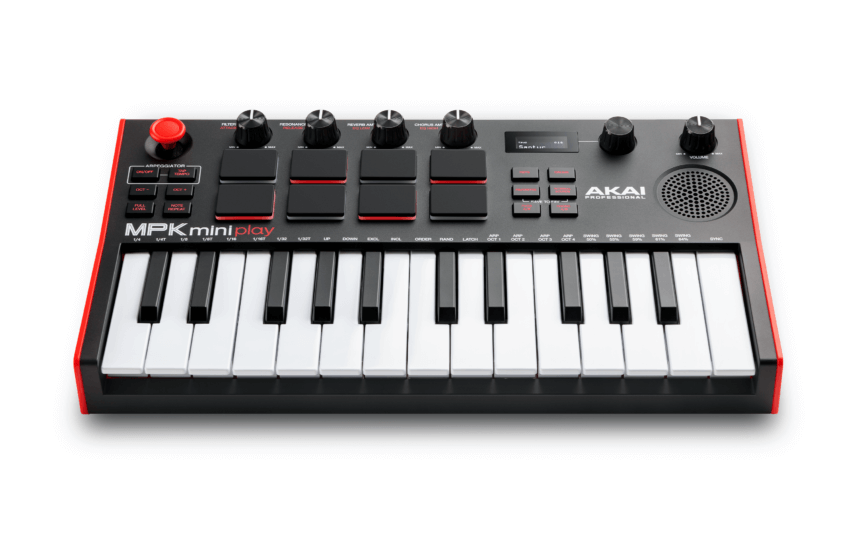 Is the MPK mini Play MK3 a controller? Is it an instrument? At this price (£103) it doesn't really matter. First off, it's got the usual 25 keys. Although they're not full-size, they're big enough to get the job done with an improved keybed and velocity response. But really, you get an Akai controller for the velocity-sensitive MPC drum pads. The MPK mini Play MK3 has eight of them – and they're backlit for seeing in the dark. It's also got four assignable knobs, an assignable joystick as well as an OLED screen for visual information.
You can use all of this to control software, of course, but the MPK mini Play MK3 also includes more than 128 onboard instruments and dru
m kits. It's even got a speaker and headphone outs. The whole this is USB bus powered and – bonus! – there's a built-in battery with 14-plus hours of life for taking things on the go.
Native Instruments Komplete Kontrol A25
Native Instruments power users, take note. The company, best known for software like Massive and Reaktor, also makes MIDI controllers. Their A-series strikes a balance between NI design and affordability, with even the 25-key model benefitting from the company's dedication to quality.
The A25 features a semi-weighted custom keybed. It's rare for a 25-key instrument to get semi-weighted keys. Add to this eight touch-sensitive control knobs, a four-directional push encoder, ergonomic pitch bend and modulation wheels, and a graphic OLED display and you've got a controller that provides a lot more than its £118 price tag suggests.
Being an NI device, it's got deep integration with the company's software via the NKS extended plugin system. This means you can control software directly from the controller. This also applies to third-party software that's compatible with the NKS standard. As expected, the controller comes with a nice bundle of NI software too, including Maschine Essentials, Komplete Start, and even Ableton Live 10 Lite. If you're already a part of the NI ecosystem or want to be, Komplete Kontrol A25 is a no-brainer.
M-Audio Oxygen Pro 25
M-Audio are an OG MIDI controller company, with their Oxygen series first hitting the market 20 years ago. They're still going strong as their Oxygen Pro 25 will attest.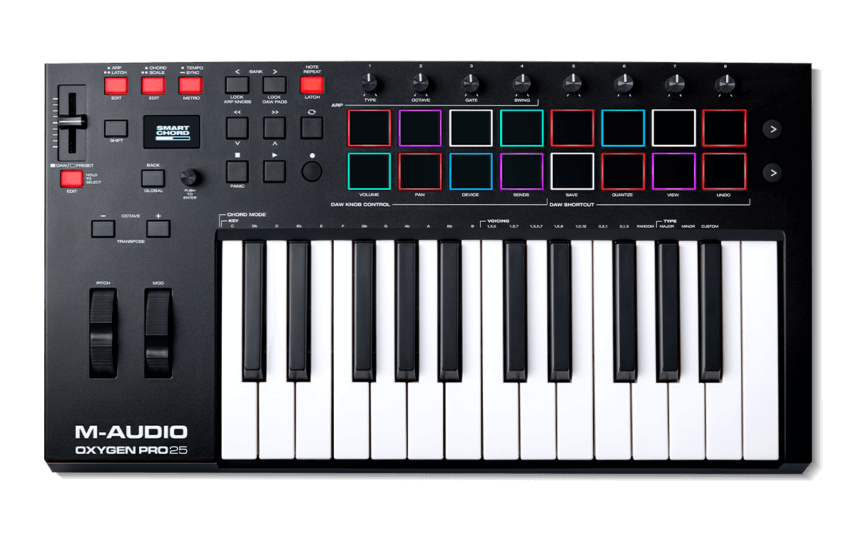 The key feature on the Oxygen Pro 25 is undoubtedly its keyboard. The 25 keys are full size with both velocity sensitivity and channel aftertouch, a first for this list. Aftertouch allows you to add extra pressure to affect assignable parameters like filter, modulation, or pitch. It's a common feature in top-shelf keyboards so it's nice to see it in one that doesn't break the bank at £134.
Along with the keyboard, the Oxygen Pro 25 has eight assignable knobs plus 16 velocity-sensitive RGB pads for bashing out beats. It has a host of other functions as well, including Smart Chord and Smart Scale modes, an arpeggiator, transport and navigation buttons, pitch and mod wheels, and an OLED display. You can power it via USB and it's even got five-pin MIDI out for interfacing with external gear.
Novation Launchkey 25 MK3
We loved Novation's Launchkey 49 MK3 when we reviewed it in 2020. We called it "practically perfect" and praised the intuitive operating system for "taking the headache out of working with MIDI." The company also offers a 25-key version and we recommend it just as much as its bigger brother.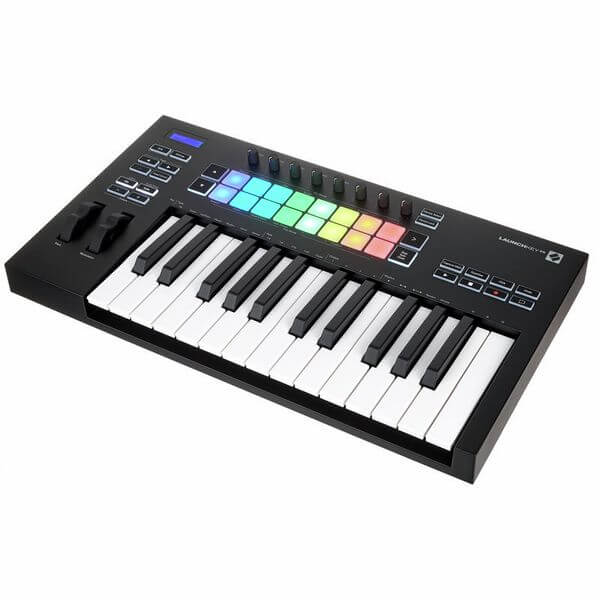 Along with the 25 velocity-sensitive, full-size keys, the Launchkey 25 MK3 features 16 illuminated and velocity-sensitive pads, scale and chord modes, an arpeggiator, pitch and mod wheels, a 2 x 16 character display, and eight knobs for controlling DAWs and soft synths. It's got perfect Ableton Live integration plus control for other DAWs via the transport controls and other buttons. It can even be used standalone for when you need to step away from the computer or for live performance.
Launchkey 25 MK3 from Novation is the perfect mix of functionality and fun extras. The included software bundle with Ableton Live Lite and others is just icing on the cake. At £145 it won't put much of a dent in the credit card either.
CME Xkey Air 25
Wires, who needs 'em? Thanks to Bluetooth and wireless MIDI, the 'air' designation of wireless controllers has become more common. CME's Xkey Air 25 takes this and runs with it, with an ultra-slim wireless MIDI keyboard controller plus a surprising additional feature.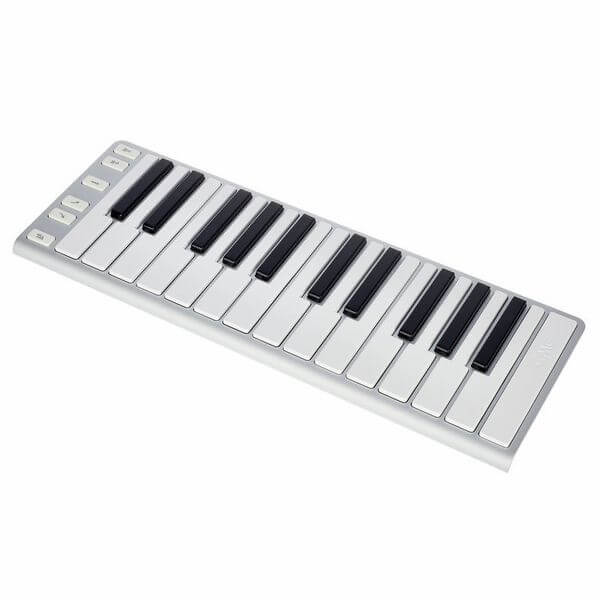 The Xkey Air 25 is indeed wireless, with low-latency Bluetooth 4. Instead of being powered by USB it's got a lithium battery inside for 10-plus hours of continuous use. It's also class compliant – just connect Bluetooth and away you go. The body of the Xkey 25 is incredibly slim at only 16mm thick so the full-size and velocity-sensitive keys have a very short stroke. This may turn off some players. However, the inclusion of polyphonic aftertouch may make up for it. Unlike channel aftertouch, which affects all notes at once, polyphonic aftertouch happens on a per-note basis. This gives you much more control over expression and is especially unusual for a small MIDI controller. Along with the keys, there's a pressure-sensitive modulation switch, sustain button and two octave shift buttons.
CME's Xkey Air 25 is designed to work with Mac devices, both desktop and mobile. It will play nice with Windows but it requires a WIDI BUD USB dongle to work. At £155, the CME Xkey Air 25 isn't cheap but if you're looking for something a little different, or need polyphonic aftertouch, this is the one for you.
IK Multimedia iRig Keys I/O 25
At first glance, IK Multimedia's iRig Keys I/O 25 looks like many of the other controllers on this list but there's a big difference. The clue is in the name.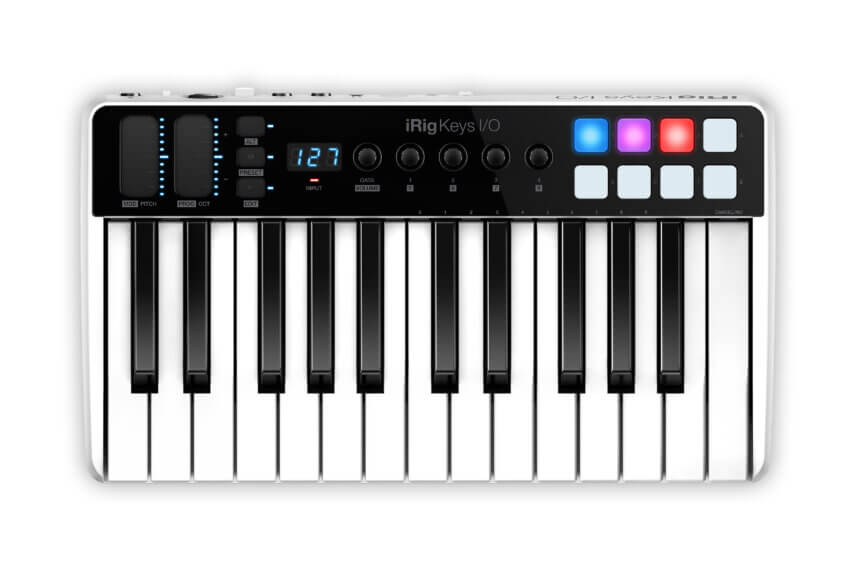 First, the controls. The iRig Keys I/O 25 has 25 touch-sensitive standard keys, eight assignable and velocity-sensitive light-up pads, four touch-sensitive rotary encoders, three buttons for DAW transport and editing functions and two touch strips.
So far so good. But what's different about this? If you hadn't guessed, the I/O in the name stands for in/out, and that means there's an audio interface built into the controller itself. Look around the back and you'll find an XLR balanced input with phantom power for microphones plus an unbalanced instrument line input as well as stereo outs. Nice.
While the iRig Keys I/O 25 can be powered by USB, you can also run it on two AA batteries, making it a portable solution for both MIDI and audio needs. It's even compatible with iOS devices. At £158 it's almost the same as many of the other controllers here. It's like getting the audio interface part for free.
*Attack Magazine is supported by its audience. When you purchase through links on our site, we may earn an affiliate commission. Learn more.
FOLLOW ATTACK MAGAZINE
Related